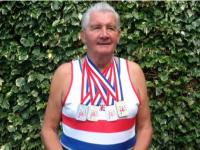 I regret to inform you that Jaroslav Hanus, multiple British masters record holder in the throws, passed away on March 8th 2014, following a stroke. The funeral will be at Breakspear crematorium, Ruislip, on Thursday 20th March at 1pm.

Jaroslav was born in Czechoslovakia in 1930, After the war he participated in many sports - athletics, including throws and decathlon, basketball, ice hockey, and volleyball. He eventually concentrated on the throws, becoming Czech hammer champion in 1950 or 1951. During his national service he made the elite army team, and among his team mates was one Emil Zatopek. He gave up his athletics when he qualified as an architect, and emigrated to Britain in 1968 to continue his work as an architect. When he retired in 1995 he took up athletics again, and set 33 British Masters records in the throws. He competed all over the world in masters athletics, winning many medals in the process. He was a character, and will be sadly missed. 17-03-14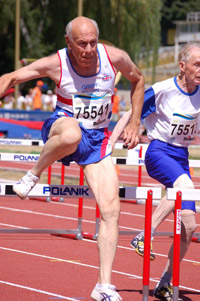 Peter Field died on Sunday 13 June 2010 at the age of 79, after a long battle with prostrate cancer. Peter was a long standing member of SCVAC and Dartford Harriers and held many records. He was also an International Athlete and a really nice man.
The funeral was on Thursday 15 July at Eltham crematorium 15-07-10